Paladin launches Vibratory Plate Compactors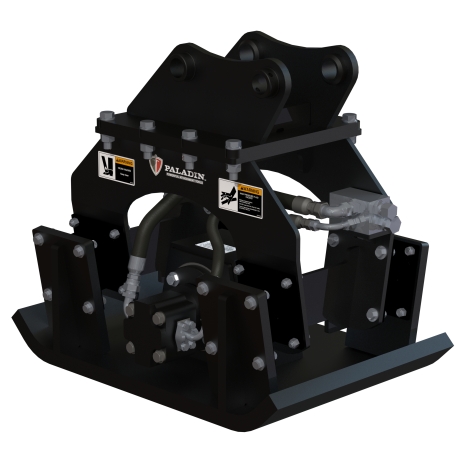 DEXTER, MI - Paladin is pleased to announce the addition of the TPC family of Vibratory Plate Compactors to our product line up; these are available for immediate sale.  As we continue to grow our offering, Paladin continues to expand the Hydraulic Tool product segment. The addition of the family of Hydraulic Tools to the Paladin portfolio will help deliver on the "one-stop-shop" strategic goal for Paladin, and add market opportunities. The Hydraulic Tool segment, known as StikeForce, includes the current full family of Hydraulic Breakers (SFB), and is being expanded to include multiple attachments primarily operated by the hydraulic power of the host machine or carrier.  These tools are focused on the specific needs of the General Contractor, and combine a high value tool with a low operating cost to maximize the customer's positive experience with Paladin Attachments.
The next addition to the StrikeForce line is the TPC Plate Compactor. Vibratory Plate Compactors are used in general construction and provide a method for effective compaction of soils on worksites that include home construction, multi-unit construction, road construction and repair, runway repair, and soil stabilization through driving of retention plates or columns.  Each of these areas requires a solid ground foundation to support heavy loads from buildings or roadways.  The Plate Compactor I the industry accepted tool to achieve that solid foundation
The Strikeforce TPC Plate Compactor works by applying an "impulse" load to the subsoil to concentrate the soil particles into a denser condition – compacted.  The impulse is created using an eccentric weight which is rotated at high speed using the hydraulic power of the host machine.  Through rotation this eccentric also imparts a cyclical vibration, which combined with the impulse force, drives moisture and air out of the soil. This can be done in "lifts" (depth of soil to be compacted) of up to 4 feet depending on the soils condition. To protect the host machine, and to allow "flat" contact with the soil, the compactor impulse loads are isolated through a set of (4) flexible shock isolators. Paladin TPC Plate Compactors include many features that give the customer the most effective compactor on the market.   These include the "outboard" shock isolator which maximizes the rigidity of the lower portion of the compactor, the standard flow control feature that protects the compactor from hydraulic overload, a unique "oil bath" bearing design that minimizes maintenance requirements, and the use of the standard Paladin adaptor brackets for mounting to the host machine. 
Marketing Material is available at Paladinattachments.com, and includes a comprehensive specification page.