Paladin Attachments Expands Bradco Pallet Fork Offering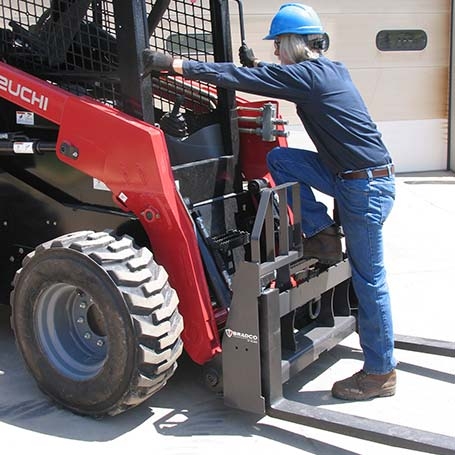 DEXTER, MI - Paladin Attachments, a leading manufacturer of coupler systems and attachment tools, has expanded its Bradco Pallet Fork offering to include new Walk-Thru Pallet Forks, featuring an open design that allows the operator to step through the frame upon entry and exit for safe access to the loader. The addition of the Walk-Thru Pallet Forks is in support of the company's ongoing commitment to providing product versatility and reliable solutions to the markets it serves.
Bradco Pallet Forks have a heavy duty design for skid steer loaders handling up to a 6,200 pound capacity, with excellent operator protection and visibility. The lever style locks provide additional leverage when operating the tine latching mechanism and the patented pull "D" ring for pulling or retaining loads, giving these forks superior strength and protection against load damage. The expanded offering featuring the new walk-through design are manufactured with a durable frame and reliable construction for maximum performance, easy maintenance, and are backed by Paladin's two-year warranty.